Hello,
At the moment, I'm working on an entry for the MattePaint challenge: https://mattepaint.com/blog/digital-universes-week-1/?utm_campaign=digitaluniversescontest&utm_medium=post&utm_source=facebook&utm_content=week1&fbclid=IwAR38GrTFfU5K_4rDNLGsbxrjuCiO1v90CsR2oN_BnkDL15H64sW032j14ds
So I thought it might be interesting to document my entry like an ArtStation competition; to ask for feedback and to keep myself on track, and as a note to self in terms of ideas for the image's development. The theme for this week is 'Lost in the Wild' – and I'm trying to focus on fairly simple DMP to target realism rather than a complicated narrative or composition.
So far…
My concept is to portray a woodland area at sunset, suggesting some sense of scale whilst maintaining the feeling of being enclosed – a forest that may be pretty to look at, but one you wouldn't like to get lost in when that sun falls below the horizon.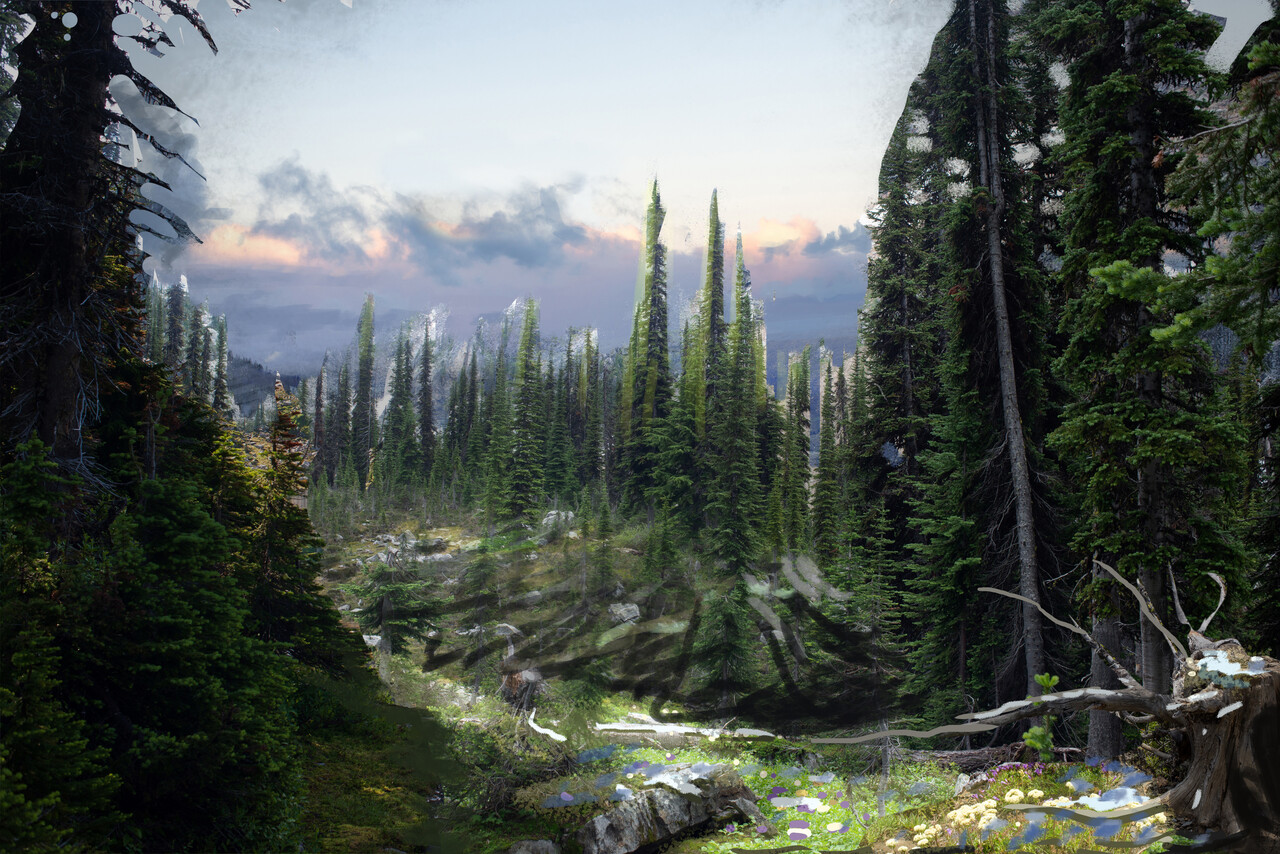 Simple in general terms, but hopefully something that I can really explore in detail, controlling the small stuff rather than rushing to get in the last few elemtents in a complex scene.
Over the last two days, I've more or less resolved the main landscape: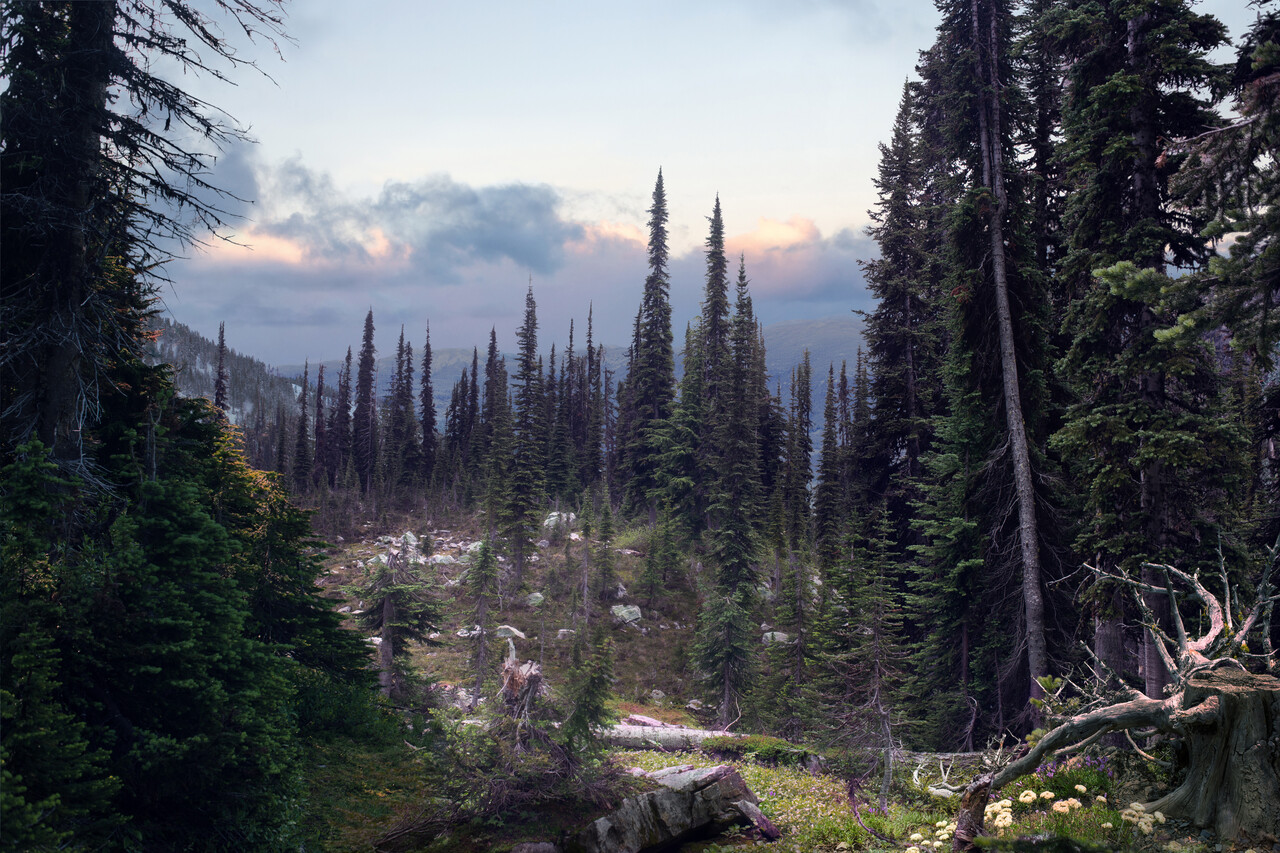 The most pressing concerns which I'll try to address soon are the integration of the tree trunk, and the foreground vegetation. I think more purple flowers will help balence the sky, authough it is already quite busy, so I may also have to replace some of these elements with grass – a balence with readabilty and conveying the wild nature of the landscape I suppose.
To do:
Cleanup the midground; possibly adding more of a valley to the right to give a greater sense of scale.
Vary the midground tree angles a bit to break up the uniformity, and better convey the slope of the ground.
Fiddle about with the midground rocks to support the composition.
Add detail to the foreground.
Maybe…. maybe add some touches of snow?
Well, that's my first blog post written – I'd be really interested in hearing what you think – thanks for reading!
P.S.
Maybe not of interest – but for those who care:
The composite sheet so far –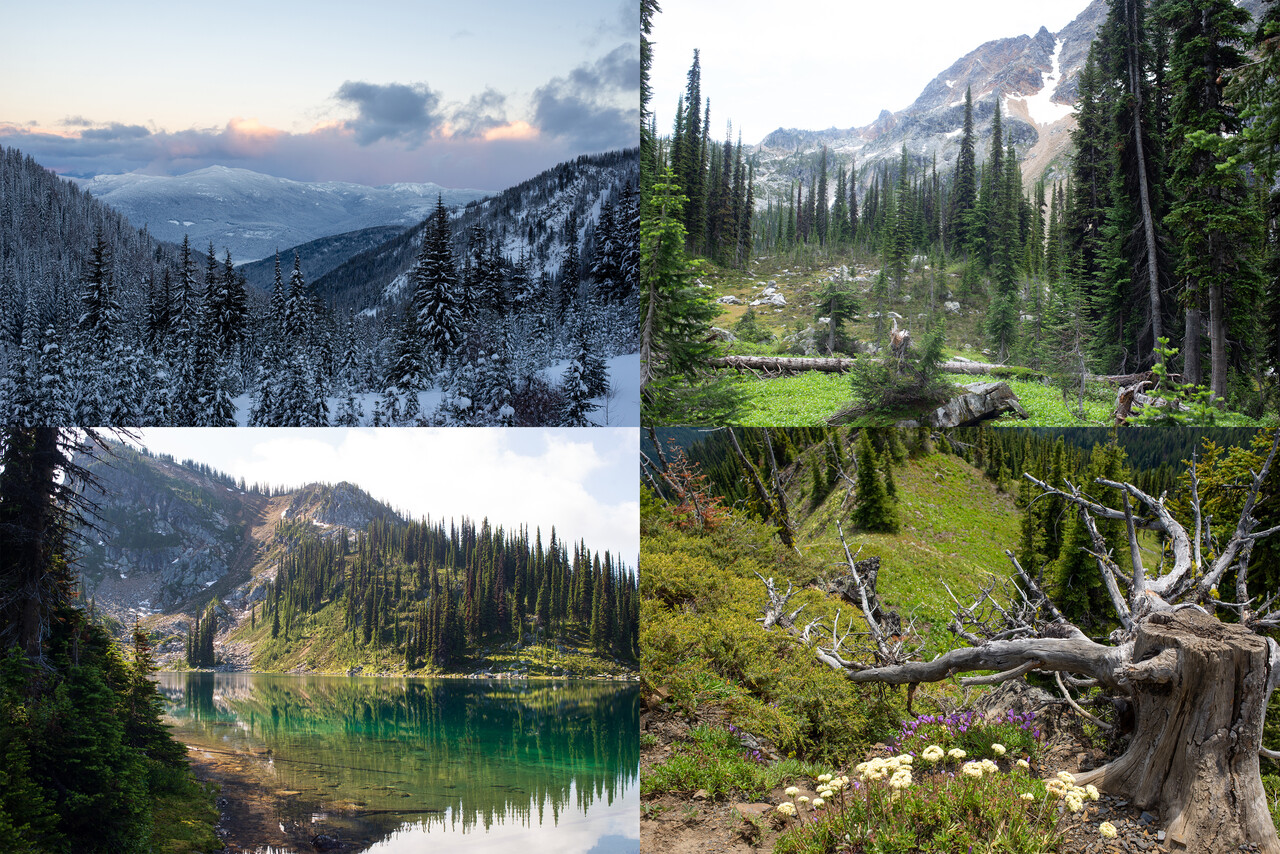 And a little 10 second breakdown vid of the wip saves: